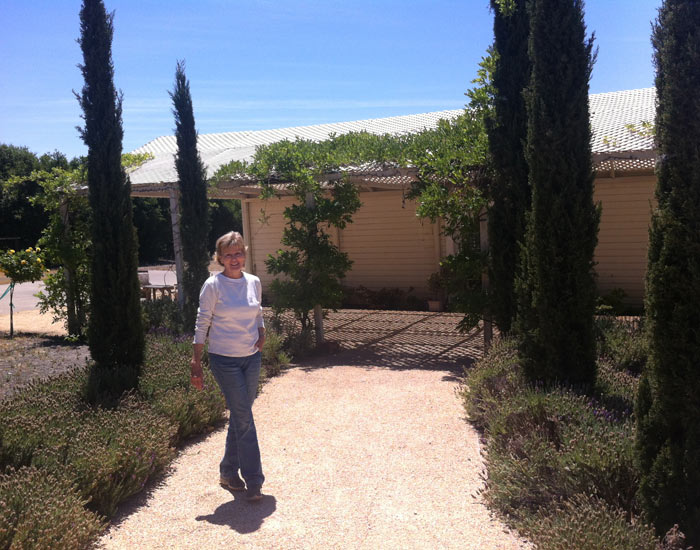 I have been an artist throughout my life.  I paint because I love capturing the feeling of living in Sonoma. Both my life here and my travels in Italy are my main sources of inspiration.  Sonoma is defined by wine and food and is a spot that attracts people from all over the world. My studio in rural Sonoma is surrounded by old, weathered barns and acres of vineyards.
I paint the landscapes, farmers' markets and people I see in my daily life. My medium is oil on canvas or wood. I love the brilliance of the colors and the physical act of painting. My use of color is inspired by the season changes of the surrounding countryside. The yellow ochres of the hot, dry summer change to deep greens of the wet winter.
Painting is my passion. Inspiration comes to me as I am working and often, at the end of the session, I realize that something special has happened. That is exciting and it keeps me motivated.
Exhibits
2019 - Parkpoint Club, through March
2018 - Parkpoint Club
2018 - H Frank in Sonoma
2017 - Sonoma Art Trails
2016 - Sonoma Art Trails
2016 - The Loop at Cornerstone
2014 - Art Trails Open Studios, Sonoma
2014 - Parkpoint, Sonoma
2013 - Sonoma Art Trails
2013 - Chateau St. Jean Winery
2012 - Sonoma Art Trails
2011 - Parkpoint Club
2011 - Henry L, Sonoma
2010 - Sonoma Vintage Festival, 2010, winner Vintage Festival poster contest
2009 - Enoteca Della Santina, Sonoma
2008 - Wolfdale's at Tahoe City
2006 - Granger Art Gallery, Sonoma, 2006-2007
2007 - The Florence Biennale 2007, Florence Italy
2005 - Park Point Club, Sonoma
2005 - The Florence Biennale, Florence, Italy
2005 - Marin Arts Festival
2004 - Sonoma Salute to the Arts
2004 - Marin Arts Festival
Education
College of Arts and Crafts, Oakland
BA, Painting, Art History, UC Berkeley
Studied with Peter Voulkos and John Grillo
MFA, Painting, UCLA graduate school
Studied with Nathan Olivera
Academy of Art, San Francisco
Illustration and Drawing